Production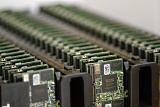 Do you need a quality and flexible producer of your electronic devices? Our service offering includes automated machine mounting of SMDs on printed circuit boards using our automated line.
We can offer the following services:
We can take care of the entire production process for you – from the manufacture of printed circuit boards and the preparation of print templates, to the supply of components and the powering up of resulting devices.
We can produce big lots, as well as smaller and prototype series.
Individual approach to every order is a matter of course.
We take maximum care of each product. Every printed circuit board is marked by a special label with a unique code which allows us to record and track the product's complete production history in our information system.
We only use tested and quality suppliers to satisfy sub-deliveries of printed circuit boards, print stencils, and components.
We can mount PCBs ranging from 51 × 51mm to 457 × 508mm.
We regularly mount components starting with 0201 sized chips to QFP, QFN, BGA, and various other components, such as connectors.
We usually use a completely unleaded process but should you be interested in leaded soldering we can use that as well.
We can provide consulting regarding the design of PCBs to avoid, to the maximum extent, possible problems in series production. We also offer the service of PCB designing which is a field where we have much experience.
Our primary business is the automated machine mounting of SMD components but we can also mount your products manually and solder in the through-hole components manually or with the wave soldering.
We use rinseless fluxes in our production.
We have a quality management system certified according to ISO 9001:2008.