Part of our equipment:
Photos of our equipment and other photos from our company you can find in our photo gallery.
Automatic screen printer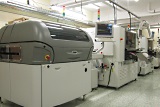 Fully automatic screen printer Horizon 03i from DEK for quality and precise print of solder paste. The screen printer is equipped with HawkEye (TM) function that optically checks the printed paste on the PCB. Due to its speed it is possible to check up to 100% of PCB area.
Placement machine AC-30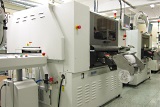 Optically centered pick and place system, AdVantis AC30, from Universal Instruments. Machine contains placement head with 30 spindles which is capable of placing components from 0201s to mid-sized (30 x 30 mm) QFNs, CSPs and others including BGAs with ball pitch of 0.2 mm. The producer states a maximum placement speed of 30 000 components per hour, real speed usually falls between 16 000 to 19 000 components per hour depending on type of manufactured product. Very high speed of placement and accuracy is provided by two on-head cameras with different resolution which analyses the components meanwhile the components are transferred from the pickup point in the feeder to the placement point on the board.
Placement machine AX-72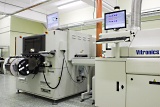 Optically centred pick and place system, AdVantis AX72, from Universal Instruments. Two placement heads with eleven spindles altogether (4 and 7 spindles) ensure placement of a wide range of components from size 0402 to large (55 x 55 mm) finepitch QFP or BGA, including various non-typical components (such as connectors). Dimensions of mounted PCBs may be from 51 x 51 mm to 457 x 508 mm. The producer states a maximum placement speed of 16 500 components per hour, real speed usually falls between 5 000 to 10 000 components per hour.
Automatic 3D optical inspection machine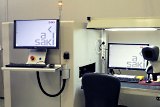 Automatic 3D optical inspection machine from SAKI. It checks corect placement and soldering of components. It is capable to check all types of components that we are assembling, depending on type of the component is is able to check various parameters, like type of component, size, rotation, color, polarity, printed information, and also the correct soldering of the component.
Soldering reflow oven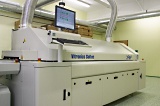 Convection reflow oven, XPM2 520, from Vitronics Soltec has five heating zones and two cooling zones employing the Polar CoolingTM technology. Relatively intensive cooling is very useful for creating quality connection when using unleaded soldering process for which the oven is certified. The oven is equipped with a centre support feature for soldering wide PCBs without unwanted bending when passing through the oven.
Datapaq Reflow Tracker System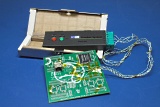 A device for measuring the soldering profile of a reflow oven from Datapaq. The device allows us, if need be, to monitor heat passes when soldering on different parts of a PCB to adjust the oven settings so that all components are well soldered while there is no excessive overheating. This may be important when soldering, for example, larger components where there is a risk of insufficient soldering or, for example, aluminium capacitors which tend to be sensitive to overheating, especially when using unleaded soldering that employs higher temperatures than soldering with formerly used solders that contained lead.
Screen printer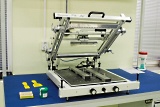 A manual screen printer with a guided squeegee mechanism, UNIPrint PML, from PBT Rožnov p. R. used mostly for making prototypes and unit production.
Manual manipulator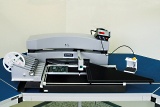 Manual manipulator, FP-100, from Nordson DIMA is used for accurate and comfortable mounting of SMD components, especially when making prototypes or for unit production.
Manual workshop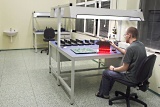 Eight ESD workplaces equipped for manual placement and soldering of thru-hole components.
Inspection stereo magnifier
Stereo magnifier Mantis Elite is used for thorough inspection of manufactured products, correctness and quality of soldering or other possible defects. Two interchangeable lenses allows us inspection with 4x and 15x magnification.
PCB Cutter Machine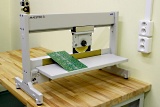 CAB Maestro 3 is used for gentle cutting of grooved PCBs.
Component counter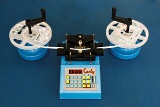 Component counter, County, speeds up component acceptance into production.