Development of electronics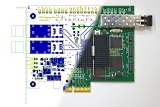 The development section of our company focuses mostly on the support of manufactured devices. We can offer our capacities especially in the following fields:
Development of an entire device or its separate functional components, especially in the field of digital technology – for example, digital processing of video signals or various peripheral PC components, including PCI cards.
PCB design – from simple PCBs to complex multi-layer circuit boards; the Expedition PCB design environment from Mentor Graphics is used for design.
Logic array content design – we specialise in using the Altera logic arrays which we design using the Quartus II program and VHDL language. We have also purchased several interesting IP functions, such as PCI Master/Target 33, PCI-Express 1x/4x or NIOS (a processor in a logic array that allows for highly configurable built-in peripherals).
Software development – our company can offer wide ranging services in the area of software development, from programming of various types of CPUs to PC software with our main focus being the Microsoft Windows platform. We can offer both application and driver development.