Purchasing of components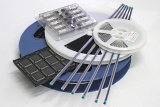 We can organise purchases of components for the manufacture of your devices from high quality and verified suppliers. As we have been purchasing components now for a relatively long time, we have at our disposal a large database of suppliers, who we know as able to attend both small and big orders and who react well to any warranty claims, observe deadlines and prices of individual deliveries.
If you order the manufacturing of your devices by us, of course, you can supply your own components for placement together with your order. Such components are clearly marked, when taken over by us, and we identify them in our information system as the customer's ones – determined only for the manufacture of your devices. When the components are not all used for the given manufacturing, we return them back together with the manufactured devices, or we can put them into our warehouse for the future use when we will receive a new order from you. It depends on your wishes.
We can also arrange for a partial purchasing of components – you deliver some parts, while we arrange for the rest. This often happens in the case of common parts like resistors or condensers.
If you are interested in purchases of parts by us, please, contact us.