Automated mounting of SMD components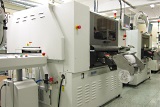 Our services in the area of the manufacture of electronics focus mostly on the automated mounting of SMD components. We own a high quality and very flexible automated production line that was acquired, from the beginning, to cover the spectrum of customers' requirements as wide as possible. The whole automated production line was designed to allow mounting of printed circuit boards up to the size of 457x508 millimetres, while the smallest size of individual boards is 51x51 millimetres (when the boards cannot be parts of a larger unit).
We use automatic screen printing machine for the paste application, which includes automatic controls of the paste application. That highly contributes to the quality and repetition of the whole mounting process. In the case of smaller series and for not typical manufacture, we can utilise manual screen printer or the paste dispenser for prototype series.
As a precisely defined thermal profile is necessary in the soldering process for the quality soldering of components, the production line includes also a high quality reflow oven, which we calibrate for more demanding jobs. That makes the soldering process very reliable. In addition, the oven is equipped with the central support preventing any bending of large printed circuit boards when passing through the oven.
Do you feel that our services are interesting? Please, contact us with your order and we will be happy to prepare a quote for you.